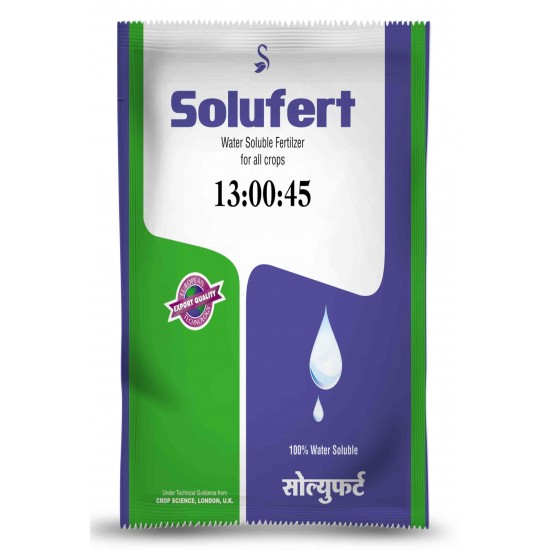 Hot
Delivery Mode : We are having tie-up with almost all the major transports , Once we receive the order , we dispatch the material immediately to the transport , and book it on to pay basis, and once we receive the LR copy , we forward the same to you , For material more than 250 Kg we can send the material by GATI also at very reasonable rates
wholesale.krushikendra.com offers a huge bouquet of 200+ payment options including all the major
Credit Cards, Debit Cards (All MasterCard /Visa /Maestro /RuPay Cards), Amex EzeClick,
Net Banking - All the major banks
Prepaid Instruments : Paytm
Mobile Payments , UPI etc
and up to Multi Bank EMI options.
SOLUFERT - 13-00-45 (Potassium Nitrate ) Water Soluble Fertiliser
13:00:45 : Potassium Nitrate water soluble fertiliser
13:00:45 - Potassium Nitrate , This provides excellent green-up in low temperature conditions. Apply in the fall for extra protection against drought and winter stress. N-P-K 13-00-45 is Water Soluble Fertilizer contributing nitrogen 13 % and potassium 45 %. Potassium nitrate is a unique source of potassium by its nutritional value and its contribution to the health and yields of plants. Potassium nitrate outperforms other potassium fertilizers on crops of all types. Potassium nitrate increases yields and improves quality in vegetables, field crops., flowers and fruit and nut trees. Potassium nitrate is an ideal source of N and K for optional plant nutrition. It is available in a variety of compositions and formulations, to suit specific crop requirements and growth environments
13-00-45 also called as Potassium nitrate is one of the most used water soluble fertiliser . 13-00-45

NOP 13-00-45 (Imported 100% Water Soluble Fertilizer)

13-00-45 Potassium Nitrate Benefits :

· 13-00-45 is free-flowing, fine crystalline powder which dissolves speedily and completely in water
· 13-00-45 is compatible with all water-soluble fertilizers and also majority of pesticides in foliar application
· 13-00-45 is useful for excellent fruit setting & fruit development
· 13-00-45 has low n/k ratio therefore suitable for all crops and all growing stages in crop cycle
· 13-00-45 is virtually free from chloride, sodium & other harmful elements for plants

Packing available : 500 gm. Pouch and 25 kg Multicolor bag.
The product offer here is 500 gm. Pack , delivered to your address .
Use for Agriculture Purpose only


Krushikendra tags : 13-00-45 , Potassium Nitrate , Water Soluble Fertiliser, 13-0-45 , NPK fertilisers ,soluble fertiliser
NOTE: Please note that as the material is heavy, couriers will not accept the material so this material will be sent by transport and the transportation cost will be paid by the buyer.

Stock:

In Stock

Model:

13-00-45_Potassium_Nitrate

Weight:

1.00kg

Solufert
This product has a minimum quantity of 10