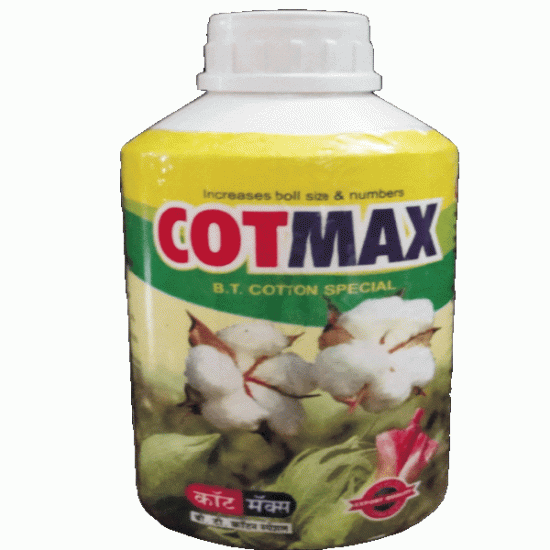 Delivery Mode : We are having tie-up with almost all the major transports , Once we receive the order , we dispatch the material immediately to the transport , and book it on to pay basis, and once we receive the LR copy , we forward the same to you , For material more than 250 Kg we can send the material by GATI also at very reasonable rates
wholesale.krushikendra.com offers a huge bouquet of 200+ payment options including all the major
Credit Cards, Debit Cards (All MasterCard /Visa /Maestro /RuPay Cards), Amex EzeClick,
Net Banking - All the major banks
Prepaid Instruments : Paytm
Mobile Payments , UPI etc
and up to Multi Bank EMI options.
shree-Cotmax - Micronutrient spray for Cotton
This product qualifies for an attractive Scheme
Please check up the scheme for this products , Please visit the schemes section for more details
Cotmax - Micronutrient spray for Cotton Crop
Cotmax : A perfect blend of all micronutrient in right proportions .
Its a foliar spray , Plants are capable of taking in nourishment through their leaves as well as their roots. Foliar sprays work quickly to give your plants the micronutrients they need, and maybe just in time.
Micronutrients are essential for plant growth and play an important role in balanced crop nutrition. They include boron (B), copper (Cu), iron (Fe), manganese (Mn), molybdenum (Mo), zinc (Zn), nickel (Ni) and chloride (Cl). They are as important to plant nutrition as primary and secondary macronutrients, though plants don't require as much of them. A lack of any one of the micronutrients in the soil can limit growth, even when all other nutrients are present in adequate amounts.

Micronutrients are those nutritional elements, which are required in the micro-quantities to the crops. They are, just as important to the plants' growth & development and profitable crop production, as the major nutrients especially they work "behind the scene" as activators of many plant functions. In the modern agriculture , intensive cropping-system is widely adopted by the farmers combining with the imbalance usage of fertilizers particularly micro-nutrients based fertilizers ,due to which, the soil has become sick and micro-nutritionally deficient, which in turns, reducing the crop yield in terms of quantity and quality. In the recent years deficiencies of micro-nutrients have been diagnosed more frequently on crops in several areas. Many farmers are taking closer look towards this problems and have started the balance usage of micro-nutrients in soil for the maximization of crop yield and quality.

The product offer here is 500 ml Pack , delivered to your address .
Use for Agriculture Purpose only

Stock:

In Stock

Model:

cotmax

Weight:

1.00ltr

Shree Pesticides and Chemicals
This product has a minimum quantity of 10