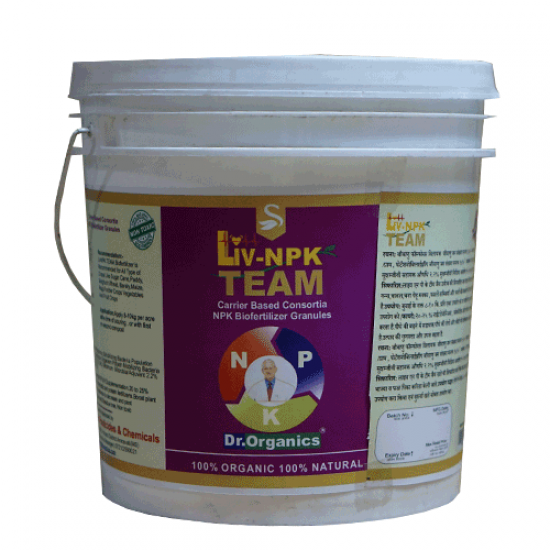 Delivery Mode : We are having tie-up with almost all the major transports , Once we receive the order , we dispatch the material immediately to the transport , and book it on to pay basis, and once we receive the LR copy , we forward the same to you , For material more than 250 Kg we can send the material by GATI also at very reasonable rates
wholesale.krushikendra.com offers a huge bouquet of 200+ payment options including all the major
Credit Cards, Debit Cards (All MasterCard /Visa /Maestro /RuPay Cards), Amex EzeClick,
Net Banking - All the major banks
Prepaid Instruments : Paytm
Mobile Payments , UPI etc
and up to Multi Bank EMI options.
shree-LivNPK Team Granules
This product qualifies for an attractive Scheme
Please check up the scheme for this products , Please visit the schemes section for more details
Nitrogrn,Phosphorus,Potassium
Improve Soil & Plant Health
Mode of action:
LivNPK Team is microbial formulation which is able to synthesize atmospheric nitrogen, solublize phosphate and mobilize potash into available form, thereby supplementing balance nutrition to the crops. It converts non-available forms of some tightly bondes micro nutrients into available form.
Benets:
Increases utilization of atmospheric nitrogen.
Solubilize unavailable form of phosphate.
Increase drought tolerance and reduce diseases infestation.

CROPS: PADDY,WHEAT,BEAN,BRINJAL,TEA,CABBAGE Liv Potash Potash Mobilizing Bacteria 8 CFU 1 x 10 per ml NPK For All Crops

Stock:

In Stock

Model:

LivNPK Team Granules

Weight:

4.00kg
This product has a minimum quantity of 10