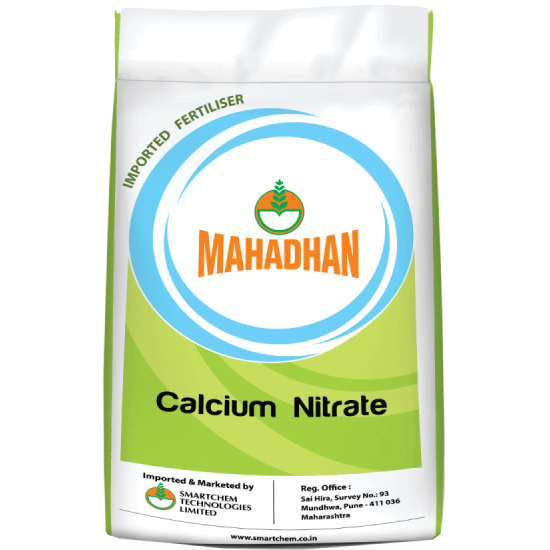 Hot
Delivery Mode : We are having tie-up with almost all the major transports , Once we receive the order , we dispatch the material immediately to the transport , and book it on to pay basis, and once we receive the LR copy , we forward the same to you , For material more than 250 Kg we can send the material by GATI also at very reasonable rates
wholesale.krushikendra.com offers a huge bouquet of 200+ payment options including all the major
Credit Cards, Debit Cards (All MasterCard /Visa /Maestro /RuPay Cards), Amex EzeClick,
Net Banking - All the major banks
Prepaid Instruments : Paytm
Mobile Payments , UPI etc
and up to Multi Bank EMI options.
Mahadhan Calcium Nitrate Fertiliser
Mahadhan Calcium Nitrate Fertiliser
What nutrients does it contain?
Nitrogen and Calcium.
What is it & how does it help in crop nutrition?
Unique source of water-soluble calcium
Acts as a carrier of Nitrate Nitrogen within the plant
Reduces the calcium deficiency of the plant and helps the crops grow with vigour
Makes the plant healthy and sturdy through tolerance to pest and diseases
Helps in neutralizing toxic chemicals within plants
Improves pH of the soil and increases the availability of trace elements
Increases fruit setting
Improves rind quality of the fruit
Increases crop quality and yield
The increases shelf life of the produce
Reduces blossom end rot in tomato and leaf spot in potato.
How does it benefit farmers?
Farmers get higher yields and better quality produce and as a result higher returns.
What are the crops in which farmers could use it?
For Fertigation: Grapes, Pomegranate, Banana, Cotton, Tomato, Onion, Sugarcane, Ginger, Turmeric, Watermelon, Floriculture and Protected Cultivation
For Foliar application: All crops
Stock:

In Stock

Model:

CN

Weight:

1.00kg

Deepak Fertilisers Pvt Ltd
This product has a minimum quantity of 10