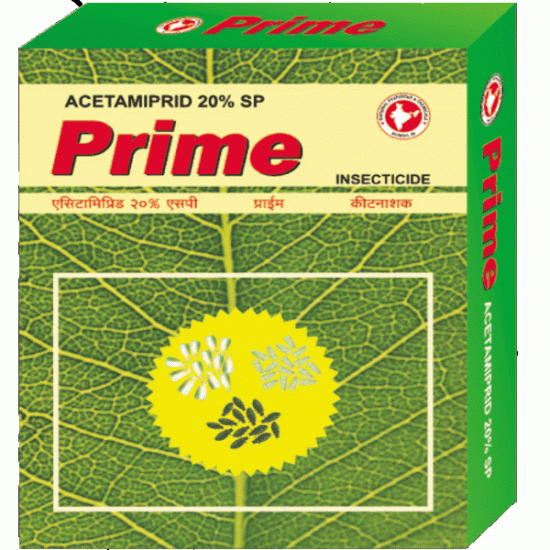 Hot
Delivery Mode : We are having tie-up with almost all the major transports , Once we receive the order , we dispatch the material immediately to the transport , and book it on to pay basis, and once we receive the LR copy , we forward the same to you , For material more than 250 Kg we can send the material by GATI also at very reasonable rates
wholesale.krushikendra.com offers a huge bouquet of 200+ payment options including all the major
Credit Cards, Debit Cards (All MasterCard /Visa /Maestro /RuPay Cards), Amex EzeClick,
Net Banking - All the major banks
Prepaid Instruments : Paytm
Mobile Payments , UPI etc
and up to Multi Bank EMI options.
National-Prime -Acetamiprid 20%SP Insecticides
This product qualifies for an attractive Scheme
Please check up the scheme for this products , Please visit the schemes section for more details
Prime -Acetamiprid 20%SP
We are engaged in offering excellent quality Prime (Acetamaprid 20% SP) to our valuable clients.

NOMENCLATURE:-
Common name acetamiprid (pa ISO)
IUPAC name (E)-N1-[(6-chloro-3-pyridyl)methyl]-N2-cyano-N1-methylacetamidine
Chemical Abstracts name (E)-N-[(6-chloro-3-pyridinyl)methyl]-N'-cyano-N-methylethanimidamide
CAS RN [135410-20-7]; [160430-64-8] unspecified stereochemistry Development codes NI-25 (Nippon Soda); EXP60707B

PHYSICAL CHEMISTRY
Mol. wt. 222.7 M.f. C10H11ClN4 Form Colourless crystals. M.p. 98.9 °C V.p. <1 ´ 10-3 mPa (25 ºC) KOW logP = 0.80 (25 ºC) Henry <5.3 ´ 10-8 Pa m3 mol-1 (calc.) S.g./density 1.330 (20 °C) Solubility In water 4250 mg/l (25 ºC). Soluble in acetone, methanol, ethanol, dichloromethane, chloroform, acetonitrile and tetrahydrofuran. Stability Stable in buffered solutions at pH 4, 5, 7. Degraded slowly at pH 9 and 45 ºC. Stable under sunlight. pKa 0.7, v. weak base
APPLICATIONS
Mode of action Systemic insecticide with translaminar activity and with contact and stomach action. Uses Control of Hemiptera, especially aphids, Thysanoptera and Lepidoptera, by soil and foliar application, on a wide range of crops, especially vegetables, fruit and tea. Applied at 75-300 g/ha on vegetables, 100-700 g/ha in orchards. Formulation types FU; GR; EC; WP.
The product offer here is 500 gms Pack , delivered to your address .
Use for Agriculture Purpose only


Stock:

In Stock

Model:

Prime -Acetamiprid 20%SP

Weight:

1.00kg

National Pesticides and Chemicals
This product has a minimum quantity of 10