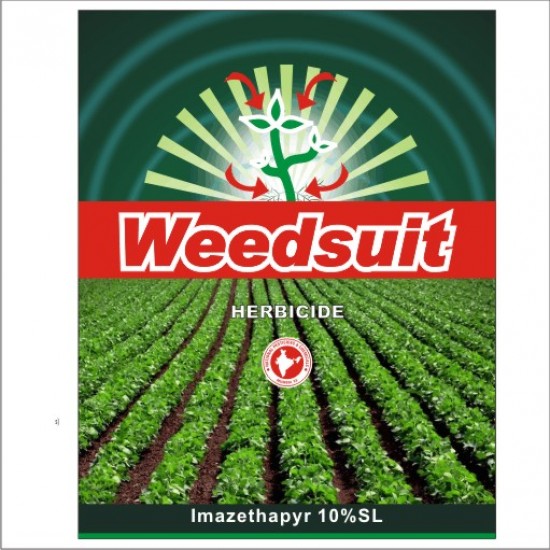 Hot
Delivery Mode : We are having tie-up with almost all the major transports , Once we receive the order , we dispatch the material immediately to the transport , and book it on to pay basis, and once we receive the LR copy , we forward the same to you , For material more than 250 Kg we can send the material by GATI also at very reasonable rates
wholesale.krushikendra.com offers a huge bouquet of 200+ payment options including all the major
Credit Cards, Debit Cards (All MasterCard /Visa /Maestro /RuPay Cards), Amex EzeClick,
Net Banking - All the major banks
Prepaid Instruments : Paytm
Mobile Payments , UPI etc
and up to Multi Bank EMI options.
National-Weedsuit - Imazethapyr 10%SL
This product qualifies for an attractive Scheme
Please check up the scheme for this products , Please visit the schemes section for more details
Weedsuit - Imazethapyr 10%SL
Imazethapyr is a selective herbicide can be used pre emergence or post emergence
Imazethapyr can be used pre or post emergence control of certain weeds in Soybean and Ground nut
NOMENCLATURE
Imazethapyr
Common name imazethapyr (BSI, ANSI, draft E-ISO, (m) draft F-ISO)
IUPAC name(RS)-5-ethyl-2-(4-isopropyl-4-methyl-5-oxo-2-imidazolin-2-yl)nicotinic acid
Chemical Abstracts name(?-2-[4,5-dihydro-4-methyl-4-(1-methylethyl)-5-oxo-1H-imidazol-2-yl]-5-ethyl-3-pyridinecarboxylic acid
Applications of Imazethapyr 10%SL :
Apply to actively growing weeds in the 2 to 4 leaf stage. Weeds may not be totally controlled but populations will be significantly reduced and surviving plants will generally be severely retarded. Good crop growth will aid weed control.
* Surviving plants will generally be retarded and
will not complete with the crop. For grass weeds
a follow-up spray with a selective grass herbicide
may be required.
The product offer here is 500 ml Pack , delivered to your address .
Use for Agriculture Purpose only


PESTICIDES SCHEME :


Buy 2 units of any Pesticides , and on that get 1 unit of Pesticides Free


For Example :
Buy 50 Liters of any pesticides and get 25 Liters of Pesticides at 50% OFF
Stock:

In Stock

Model:

imazethapyr 10SL

Weight:

1.00ltr

National Pesticides and Chemicals
This product has a minimum quantity of 10