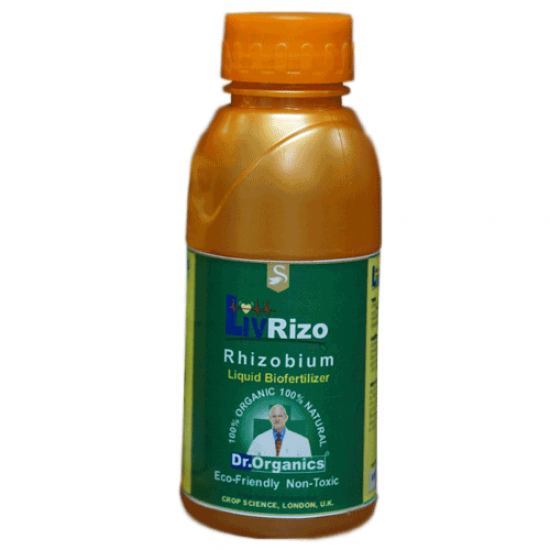 Delivery Mode : We are having tie-up with almost all the major transports , Once we receive the order , we dispatch the material immediately to the transport , and book it on to pay basis, and once we receive the LR copy , we forward the same to you , For material more than 250 Kg we can send the material by GATI also at very reasonable rates
wholesale.krushikendra.com offers a huge bouquet of 200+ payment options including all the major
Credit Cards, Debit Cards (All MasterCard /Visa /Maestro /RuPay Cards), Amex EzeClick,
Net Banking - All the major banks
Prepaid Instruments : Paytm
Mobile Payments , UPI etc
and up to Multi Bank EMI options.
shree-Liv Rizo - Rhizobium Bacteria
This product qualifies for an attractive Scheme
Please check up the scheme for this products , Please visit the schemes section for more details
Liv Rizo - Rhizobium Bacteria

CFU 1 x 108 per ml
Mode of action:

LivRhizo is a product of nitrogen fixing bacteria (Rhizobium Spp.) which infect the legume root and form root nodules within which they reduce molecular nitrogen into ammonia which is readily converted into nitrogen containing compound.
It has been estimated that 40-250 Kg N/ha/year is fixed by different legume crops by the microbial of Rhizobium.
Benefits:
Fixes 40-50Kg N/ha/year in soil
Improves soil fertility.
Helps in liberation of micro nutrients from insoluble sources.
CROPS: PEA,BERSEEM,GRAM,SOYABEAN,PEANUT,ARHAR
Application
Stock:

In Stock

Model:

Liv Rizo

Weight:

1.00ltr

Shree Pesticides and Chemicals
This product has a minimum quantity of 10