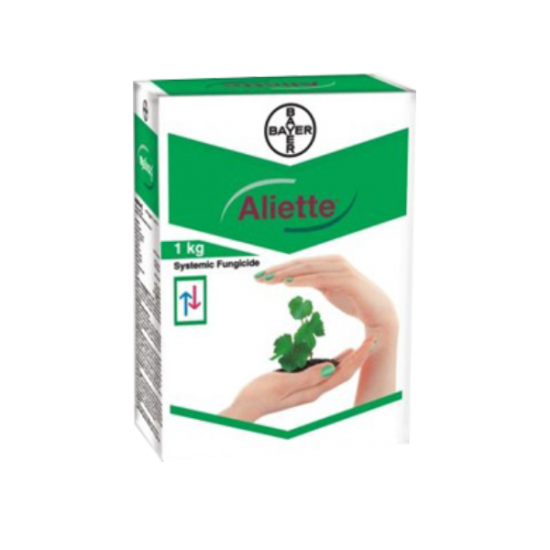 Delivery Mode : We are having tie-up with almost all the major transports , Once we receive the order , we dispatch the material immediately to the transport , and book it on to pay basis, and once we receive the LR copy , we forward the same to you , For material more than 250 Kg we can send the material by GATI also at very reasonable rates
wholesale.krushikendra.com offers a huge bouquet of 200+ payment options including all the major
Credit Cards, Debit Cards (All MasterCard /Visa /Maestro /RuPay Cards), Amex EzeClick,
Net Banking - All the major banks
Prepaid Instruments : Paytm
Mobile Payments , UPI etc
and up to Multi Bank EMI options.
Bayer Aliette
This product qualifies for an attractive Scheme
Please check up the scheme for this products , Please visit the schemes section for more details
Aliette Fosetyl Al 80% WP
Aliette is a systemic fungicide effective against Oomcytes fungi like downy mildew diseases of grapes and damping off and Azhukal diseases of cardamom. Despite its extensive use since 1978, there is no report of resistance development in fungus. True systemic action makes application of Aliette as the best prophylactic solution for downy mildew control in grape.
FEATURES
As a result of its complex mode of action, there have been no confirmed cases of fungal resistance development to Aliette under practical use conditions, despite the intensive use of this active ingredient since its introduction in 1978.

Aliette is effective principally against Phycomycetes fungi of the Oomycete family, notably Phytophthora, Pythium, Bremia and Peronospora.

Aliette is a true systemic fungicide, which is rapidly absorbed by the plant root or leaves and is translocated in both upward and downward direction, particularly to the growing parts.

Rapid absorption ensures the rain fastness.

Recommended for use in integrated resistance management. available in 250gm
Stock:

In Stock

Model:

Aliette

Weight:

1.00kg

Bayer India Limited
This product has a minimum quantity of 10