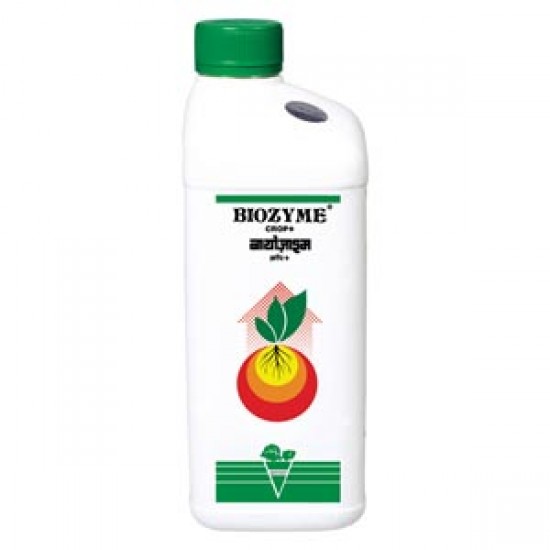 Hot
Delivery Mode : We are having tie-up with almost all the major transports , Once we receive the order , we dispatch the material immediately to the transport , and book it on to pay basis, and once we receive the LR copy , we forward the same to you , For material more than 250 Kg we can send the material by GATI also at very reasonable rates
wholesale.krushikendra.com offers a huge bouquet of 200+ payment options including all the major
Credit Cards, Debit Cards (All MasterCard /Visa /Maestro /RuPay Cards), Amex EzeClick,
Net Banking - All the major banks
Prepaid Instruments : Paytm
Mobile Payments , UPI etc
and up to Multi Bank EMI options.
BIOSTADT BIOZYME CROP
This product qualifies for an attractive Scheme
Please check up the scheme for this products , Please visit the schemes section for more details
Introduction:
Biozyme Crop + is a biotechnological innovation developed by Biostadt Research and Development Center. It is manufactured by high tech fermentation process developed and mastered by Biostadt. The dried granulated seaweed powder and other biological inputs undergoes this specialized Lactobacilli process to formulate Biozyme Crop +. Biostadt has unique source for continuous availability of best quality seaweed powder.
Target Crops:
Biozyme Crop + is unique product, which can be used in wide range of crops for vigorous crop development and better yield. Biozyme Crop + usage is suggested in following crops
Commercial Crops:

Cotton, Cumin, Opium, Jute, Sugarcane.

Field Crops:

Rice, Wheat, Sorghum (Jowar), Bajra.

Plantations:

Arecanut, Coconut, Coffee, Rubber, Tea, Mulberry , Cocoa.

Pulses:

Red gram, Green Gram, Black gram, Horse gram, Bengal gram, Chick pea, Cow pea, Soybean.

Oil Seeds:

Ground Nut, Castor, Linseed, Mustard, Safflower, Seasamum,Sunflower. Spices, Condiments, Narcotics : Black pepper, Cardamom, Coriander, Cumin, Garlic, Ginger, Tobacco, Turmeric.

Horticultural Crops:

Apple, Banana, Citrus, Guava, Sapota, Mango, Peach, Apricot, Ber, Grapes, Cashew, Melons, Papaya, Plum, Pomegranate.

Vegetables:

Chilies, Beans, Brinjal, Cucurbits, Okra, Onion, Pea, Potato, Sweet potato, Tomato, Cole crops (Cabbage, Cauliflower, Knol-Khol), Drum stick, spinach.

Others:

Lawns, Gardens, Golf course, Green house, floriculture, fodder crops etc.
Method of Application:
Dosage:

1 to 2 ml per lit. of water.

Time of Application:

Biozyme Crop +

provides essential nutritional support, activates the plant physiological and metabolic activities. Therefore it's application must coincide with all critical stages in crop life cycle.
The suggested stages of Biozyme application are as follows:

Vegetative development stage.
Pre flowering stage.
Crop development and maturity stage.
Benefits:
Early germination.
Vigorous seedling growth.
Profuse primary and secondary root development.
Increased soil microbial activity.
Higher nutrient uptake.
Better branching/ tillering and increased foliage.
Reduction in the fruit and flower drop.
Better development of grains/fruits.
Increase in the size and weight of the grains/ fruits.
Higher yield and better quality of the produce.
Used In Following Countries:
Stock:

In Stock

Model:

BIOSTADT

Weight:

500.00kg

Biostadt
This product has a minimum quantity of 10
Most viewed
Product Name
Model
Views
Add new products to gain customers attraction