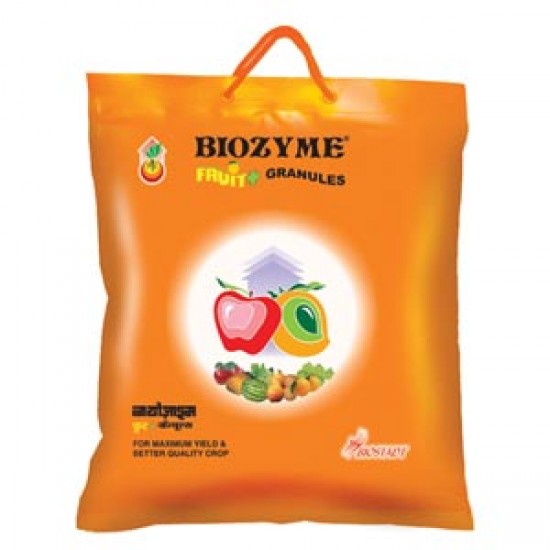 Delivery Mode : We are having tie-up with almost all the major transports , Once we receive the order , we dispatch the material immediately to the transport , and book it on to pay basis, and once we receive the LR copy , we forward the same to you , For material more than 250 Kg we can send the material by GATI also at very reasonable rates
wholesale.krushikendra.com offers a huge bouquet of 200+ payment options including all the major
Credit Cards, Debit Cards (All MasterCard /Visa /Maestro /RuPay Cards), Amex EzeClick,
Net Banking - All the major banks
Prepaid Instruments : Paytm
Mobile Payments , UPI etc
and up to Multi Bank EMI options.
BIOSTADT BIOZYME FRUIT+ GRANUAL
This product qualifies for an attractive Scheme
Please check up the scheme for this products , Please visit the schemes section for more details
Without Biozyme Fruit + nutrition of fruit plant…………is incomplete.
Benefits:
Uniform and more number of fruits.
Increases weight of the fruits.
Improves colour of the fruits.
Improves keeping quality of the fruits.
Increases productive life of the fruit plant.
Results at YPSP University (Himachal Pradesh):
Tested And Recommended By:
Dr. YPS Parmar University, Solan, Himachal Pradesh.
Krishi Vidhya Peeth, ICAR.
Indian Institute of Horticulture Research, Hisargatta.
Food and Technology Department, Uttar Pradesh.
Last but most important………real users of the Biozyme Fruit Plus.
Time and Dose of Application of Biozyme Fruit+ Granules:
At nursery stage - Put 50g per plant after removing the upper layer of soil.
For small plants - Apply 500g per plant twice in a year.
For big trees – Apply 1-2 Kg per tree along with granular fertilizer application.
Time of Application (Inflorescence):

Better fruit setting and reduces fruit drop.
Better fruit growth and development.
Faster recovery from the healing injuries.
Increase resistant to pest and disease and adverse climatic conditions.
Time of Application (Fruit Development) :

Uniform and increased size of the fruits.
Increased weight of the fruits.
Improved bright colour of the fruits.
Improved shelf life of the fruits.
Biozyme Fruit+ for good quality fruit crop
Used In Following Countries:
Stock:

In Stock

Model:

BIOSTADT

Weight:

500.00ml

Biostadt
This product has a minimum quantity of 10
Most viewed
Product Name
Model
Views
Add new products to gain customers attraction