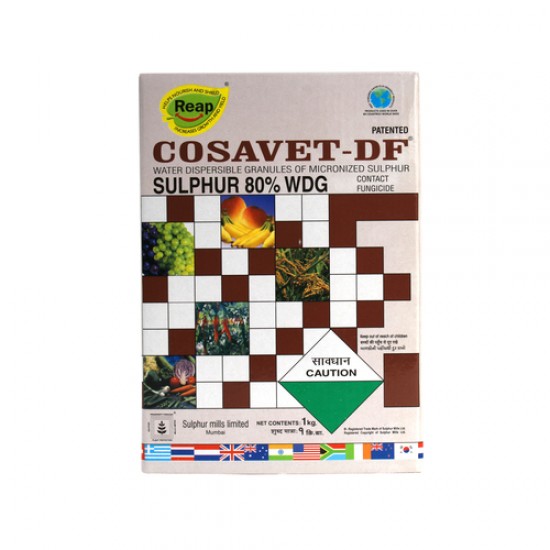 Hot
Delivery Mode : We are having tie-up with almost all the major transports , Once we receive the order , we dispatch the material immediately to the transport , and book it on to pay basis, and once we receive the LR copy , we forward the same to you , For material more than 250 Kg we can send the material by GATI also at very reasonable rates
wholesale.krushikendra.com offers a huge bouquet of 200+ payment options including all the major
Credit Cards, Debit Cards (All MasterCard /Visa /Maestro /RuPay Cards), Amex EzeClick,
Net Banking - All the major banks
Prepaid Instruments : Paytm
Mobile Payments , UPI etc
and up to Multi Bank EMI options.
Sulphur Mills COSAVET SULHUR 80 % WDG
COSAVET is broad spectrum contact and protective fungicide & miticide. It also provides Sulphur which is essential plant nutrient.
Insect/Disease Spectrum powdery mildew, scab, leaf spots and all types of mites.
Crop Spectrum Grapes, Mango, Pea, Cow pea, Apple, Cumin etc.
Benefits:
Wokovit is a dust free, flowable micronised sulphur granules, ease of measuring & handling.
It has instant dispersion and high suspensability in water, therefore it don't cause scorching.
It has triple action as fungicide, micronutrient (Sulphur) and miticide.
It has sustained action for longer effect.
There are no stains on fruits & leaves after spraying, nor do leaves get burnt.
User friendly product.
COSAVET has controlled particle size (1 – 8 micron). Multiple site action (Plant nutrient, Fungicide, Acaricide).
Opportunity
Increasing crop yields and continued use of S free fertilizers are magnifying S deficiencies
In India the importance of Sulphur as plant nutrient is recognized in Oilseeds, Pulses, Cereals like paddy, Wheat.
Stock:

In Stock

Model:

COSAVET

Weight:

30.00kg

Sulphur Mills Limited
This product has a minimum quantity of 10
Most viewed
Product Name
Model
Views
Add new products to gain customers attraction